Local History - Local Heritage - from Local Folk
Registered Charity No 1094124

The Magic Attic was started in 1987 by local historians who were interested in preserving information about the area.
The Attic is based in Sharpe's Pottery Museum but we are completely independent of the museum. We are a registered charity run completely by volunteers.
Although strongly focused on South Derbyshire and North West Leicestershire, the archive material also covers East Staffordshire, other parts of Derbyshire and other counties of the UK.
The Magic Attic's aims and objectives are to preserve the History and Heritage of this important industrial area and its surroundings.
The archive holds a wide range of material and is an invaluable source of information for research students, schools, family historians and village history groups. We welcome groups to come and 'take a tour' by prior arrangement.
We also take out our 'Roadshow' of records and photographs to Family and Local History exhibitions. Talks on local history can be arranged either at the Attic or at outside venues.
You can find out more about our journey over the past 30 years by reading The History of the Magic Attic Archives - in a Nutt Shell.
To find out what we are doing now and in the near future visit our What's On page to see a list of upcoming events.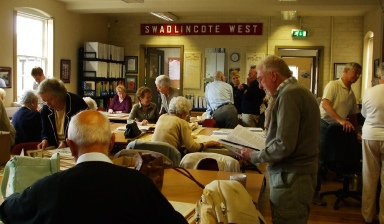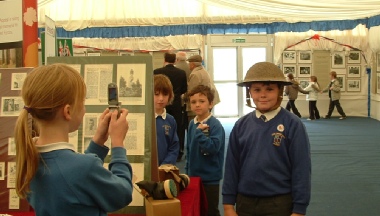 School children enjoying a Magic Attic display at the National Memorial Arboretum
Visitors researching in our main reading room